What A Successful First Year!!
Thanks to our firefighters and the Red Cross volunteers for a great first year. We were able to install over 130 smoke detectors in homes. All of the homes we were welcomed into had the chance to discuss their safety plans and ask any questions they may have had about home safety.
We would like to thank all of those who invited us into their homes and allowed us to install new smoke detectors. Keeping our community safe is our top priority!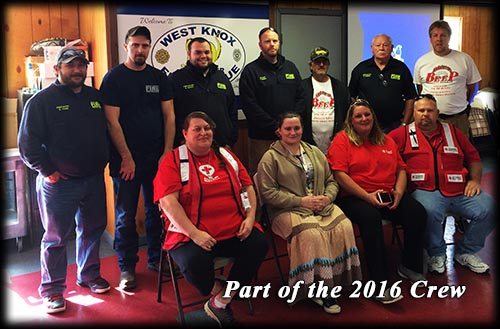 And The Program Continues...
Thanks to the Red Cross and their partners, our smoke detector program will continue. As long as we have homes to put smoke detectors in, they will continue to supply us with them. At least through 2019.
Here's all you need to do. If you live in our fire district and would like free smoke detectors put in your house, email freealarm@giveabeep.com . We will call you and schedule an install date and time.
If you are not in our fire district, you can still email us. We will contact your Fire Department and give them your information so you can get your free detectors.

Smoke detectors are provided through the Red Cross' Home Fire Prevention Campaign and made available to our community by partnering with our Give a Beep program.
For more information on the
Home Fire Campaign go to www.redcross.org.
Give a Beep Fire Safety Program
We started our program in 2014. The first two years we had a fire safety day at Lynn Camp High School. We had several utility companies, safety trailers, Kentucky Crisis Team and several other safety and volunteer help organizations join us. We gave away food and smoke detectors. We talked to those who attended about fire safety. The other companies that joined us gave away different things that had to do with safety.
Even though we gave away smoke detectors, we had no way of knowing if they were really installed and being of use. So in 2016 we decided to change our approach and put them in ourselves. We were starting to look for ways to buy the detectors when along came the Red Cross. They had detectors to give away and we needed detectors to give away. So the rocket scientist in us realized if we worked together, we could both achieve our goal. So the partnership began. And we plan on continuing the partnership as long as we can help the community together. Follow the link above to see more about the Home Fire Campaign. While you are there, make a mental note of the partners that donate to make the campaign possible and support them when you can.